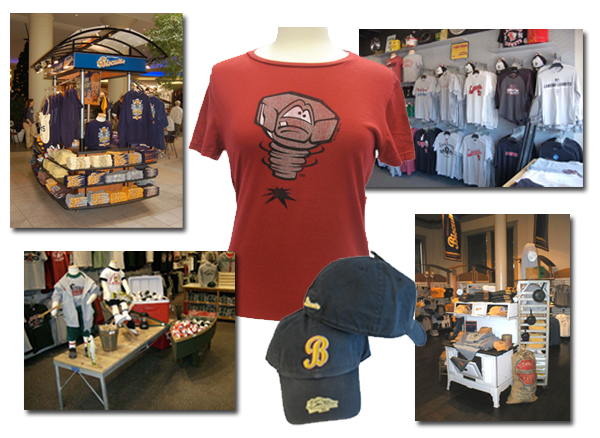 Retail Consulting
It used to be that folks thought of minor league hats and t-shirts as 'souvenirs'. At PSM, we believe minor league baseball teams have valuable brands that consumers want to be associated with. Whether it's selling merchandise at the games, online or at your local shopping mall during the off-season, your retail merchandise should be an important revenue stream for your team. The key is to have the right and 'easy-to-execute' retail operation to achieve this vision. With expertise in new markets and experienced ones, we can help identify retail opportunities, no matter what your situation.

Do you sometimes question whether you're selling as much as you can?
Does running a retail operation sometimes give you headaches because of low profit margins?
Do you know what your website transactions and average size per transaction should be?
PSM can help.
We offer strategic consulting services in a wide range of areas customized to best meet your needs and budget including:
Understand what your retail revenue goals should be and why
Know what merchandise to buy for where and when at the best price (yes, different savings exist, even at minor league baseball prices)
Learn what the best merchandise mix is and determine 'departments' of products to sell for your size operation, market and stadium-type
Understand the impact of merchandising and visual operations for a store or kiosk including recommended store schematics and fixtures/displays to meet your theme and budget
Maximize your logo options with custom, in-house designs beyond primary, home & away, or vendor art
POS analysis/Cash management/Checks and balances options
Inventory control procedures to minimize theft
Retail website 'keys to success'
Buying service options
Turnkey training resources
How can we do all this?
We have 15 years experience owning and operating minor league baseball teams
We have over 9 years of traditional retail experience
We have a full-time graphic design director who specializes in retail logos, store design and creative solutions
We have a full-time, corporate PSM staff of 8 who are not distracted by the on-site duties of being at a team
We have 70 other full-time employees who keep us reminded of how hard it is to operate minor league teams and how they need the best leadership, ideas and 'easy-to-execute' solutions
---
Consulting Options
We can provide the folowing three tiers of service plans, but we can also customize a plan to fit your specific needs–from a quick feedback option to overhauling your entire operation. Click on any icon to learn more:
| | | |
| --- | --- | --- |
| | | |
| We do a quick audit and offer basic solutions | We analyze your look, provide ideas and hands-on training | We do the initial purchasing and provide all turnkey transition tools |